"Before" Pictures: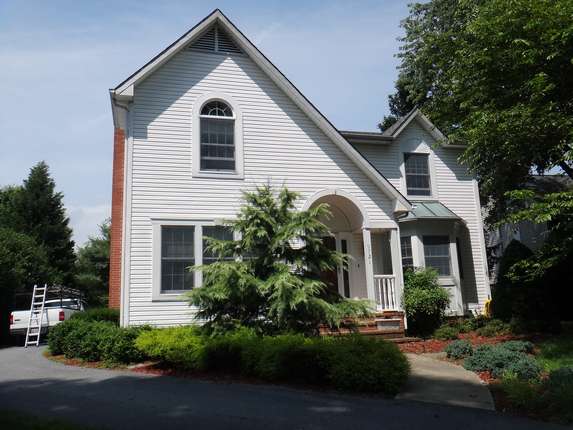 This home in Ellicott City, Md will be getting a new Certainteed Landmark (Lifetime) Architectural Roof and Solar Panels.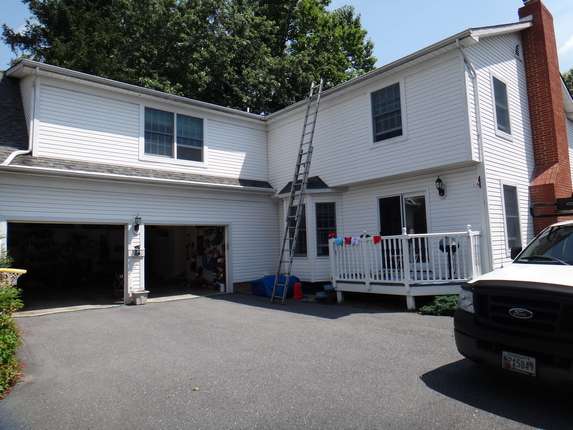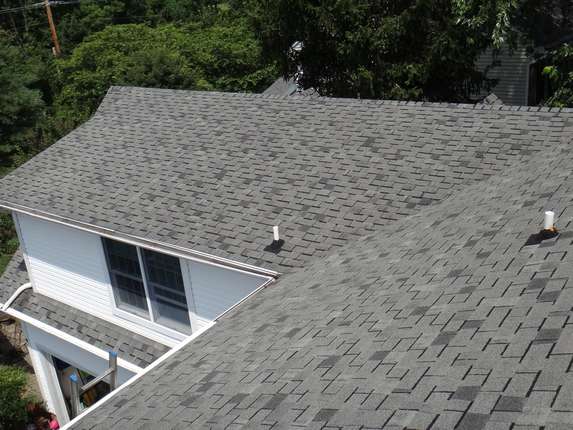 These two roof planes will get the solar panels ...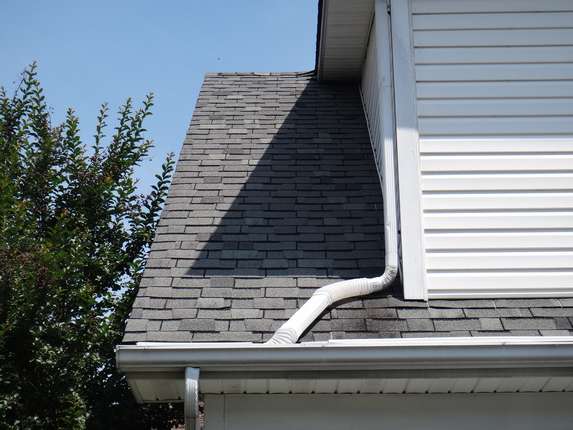 The existing shingles are worn out and must be replaced so the new ones will last at least as long as the new solar panels. Today's panels last about 20 years.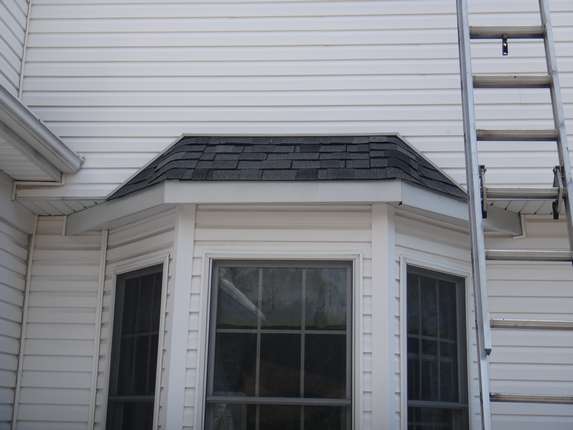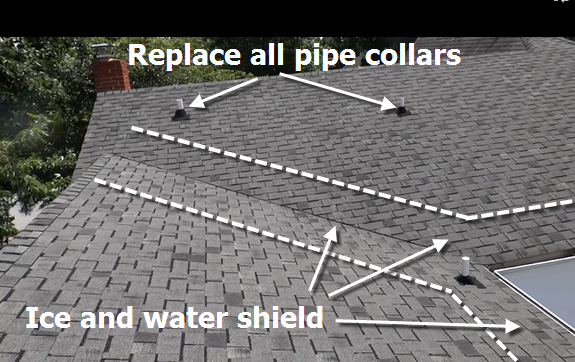 All pipe collars are ALWAYS replaced with new upgraded neoprene and aluminum units. All valleys and gutter edges receive "ice and water shield", and the plywood next to the gutter gets custom made aluminum drip edge. The permanent bond formed between the sticky backed ice and water shield and the drip edge provides superior protection from the elements ...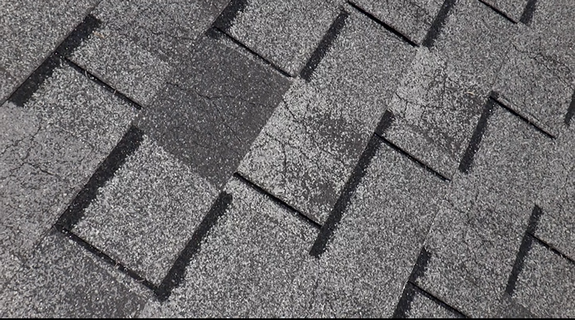 The existence of cracking and granule loss is evident. Horizon Shingles were prone to early cracking and one reason for discontinuing the model ...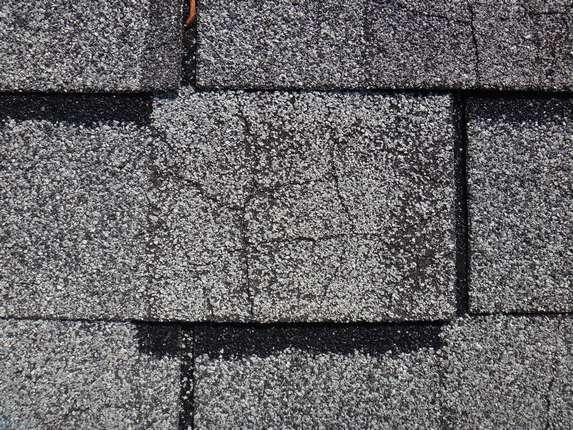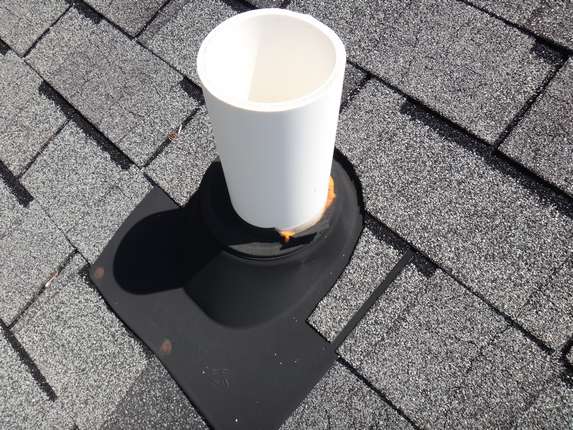 Looks like someone tried to seal the leaky pipe collars from the inside with spray insulation! Nice!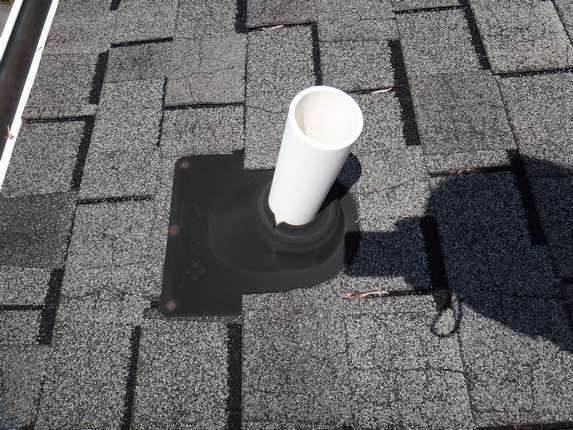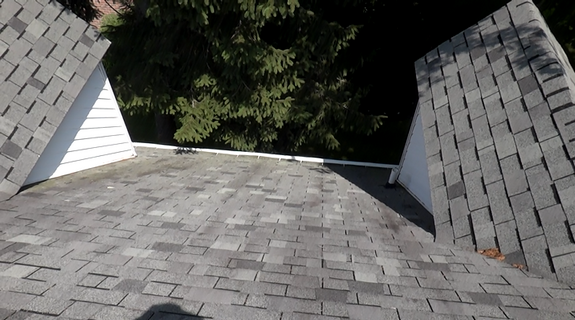 Some of the sections of roof on this home are steep and "unwalkable", like this one with the two dormers.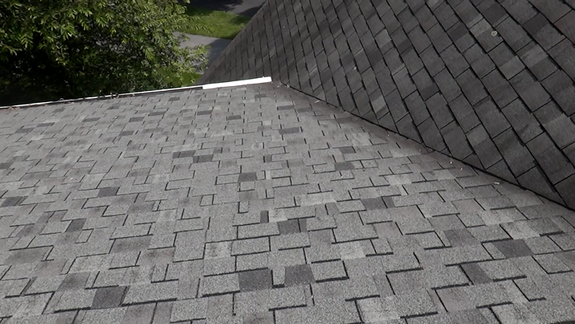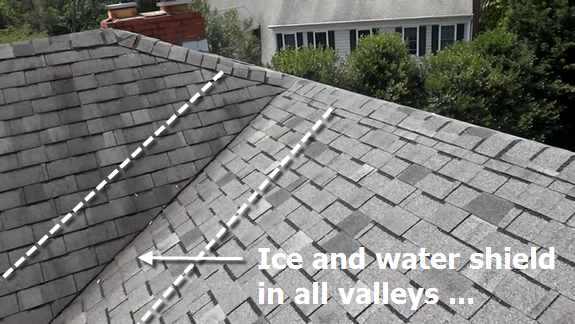 Again, all valleys will get "ice and water shield" for added protection against ice dams and leakage from nail penetrations.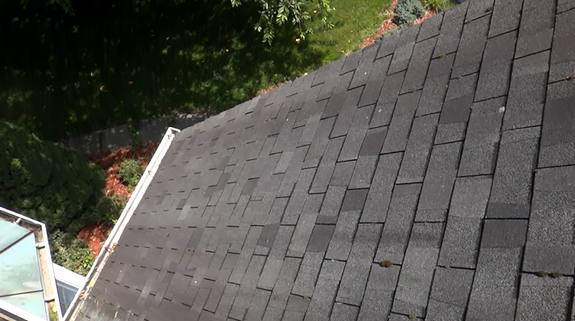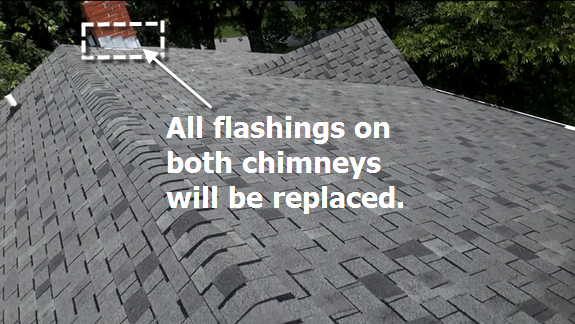 All chimneys will be reflashed with NEW custom formed step and counter flashings -- then sealed with lifetime Geocel Tripolymer Sealant.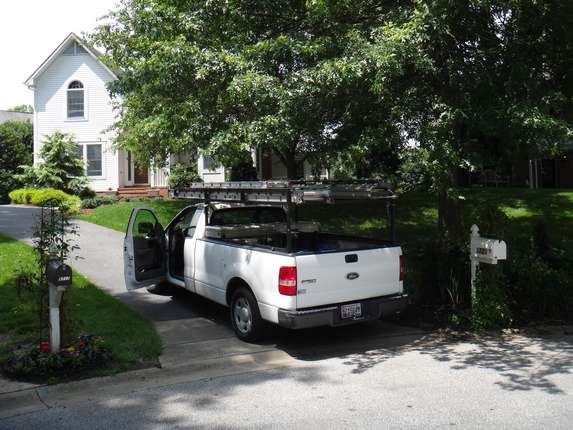 Access issues: this tree may need some light trimming so the delivery crane can get the shingles to the top of the roof.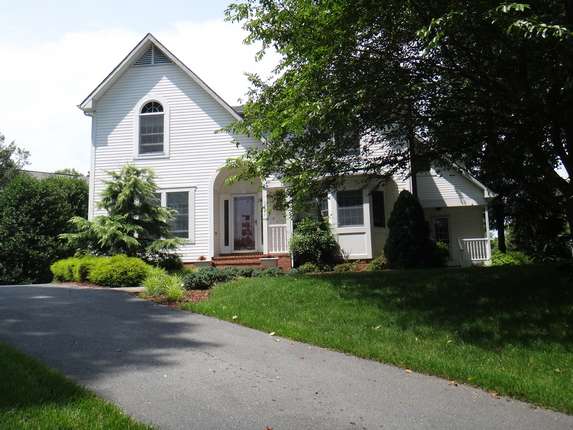 It's important to note the differences in our new roofs vs. the competition's; namely the "upgrades" that most other roofers don't even consider doing.

(Note: All blue links below are clickable and open new windows of information.)

1. Custom formed aluminum drip edges that help direct water into the gutters so that the plywood and fascia is protected from water and ice dams for the life of your roof. We custom form them on site on our sheet metal brake so that they fit your roof exactly. There will be about 183 feet of 6" wide drip edge applied to this project.

2. Ice and water shield that permanently bonds itself to the plywood surface AND the aluminum drip edge to prevent damage to plywood from ice dams and horizontal rain. There will be about 278 feet of material, 3 feet wide, when this job is completed.

3. Custom chimney flashing. I haven't seen anybody else do this routinely, and on this project, we'll use custom colored aluminum to blend with the new shingles. Chimney "counter flashings" will be sealed using Geocel Tripolymer Sealant.

4. Underneath the roofing, instead of using the old fashioned "tarpaper" (that almost everybody else STILL uses), we use Berger UDL Synthetic Underlayment, which is much more effective at protecting against leaks caused by "wind driven rain" ... and has the added benefit of discouraging mold growth -- unlike tarpaper.

5. Since we are tearing the entire roof and felt off, it's the perfect time to cut bigger slots in the 1/2" plywood sub-roofing and install a new Shingle Vent II ridge vent system. The added volume of air circulated throughout the attic will keep the area cooler AND drier:

a. Keeping the insulation dry and making it more effective.
b. Lowering your heating and cooling bills.
c. Eliminating dangerous mold and mildew and helping out your allergies.

Approximately 100' of new Shingle Vent II will be installed on this project.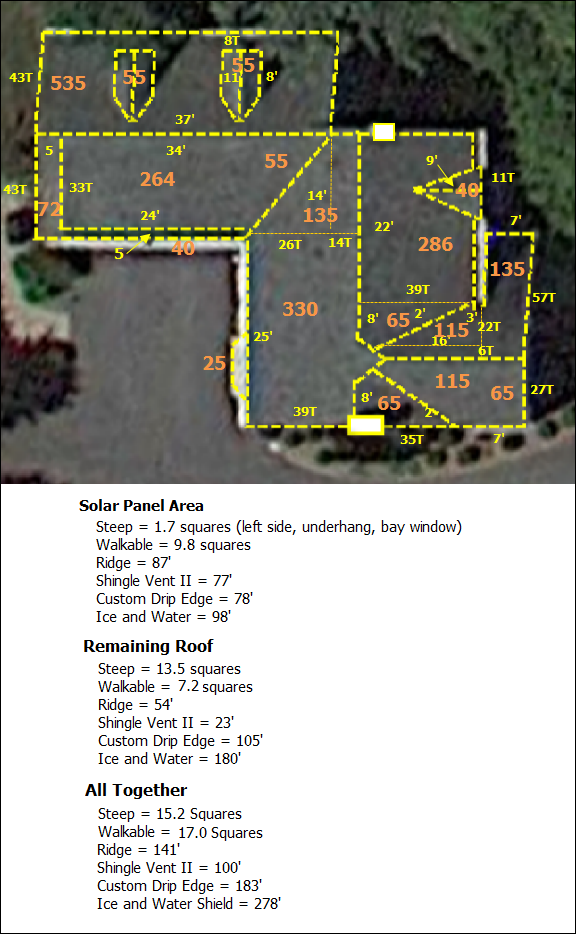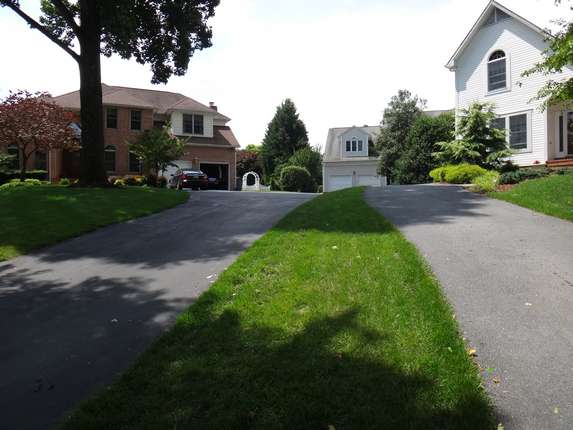 During and After Pictures: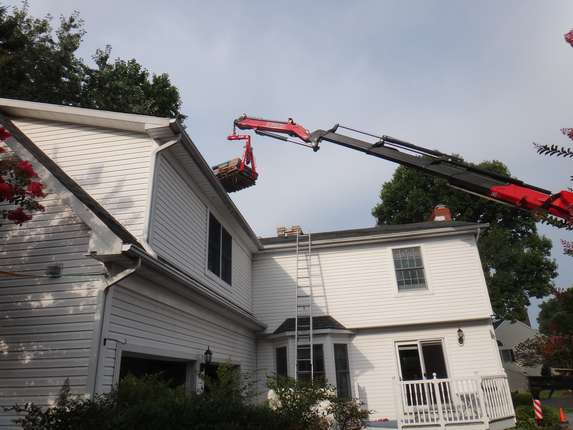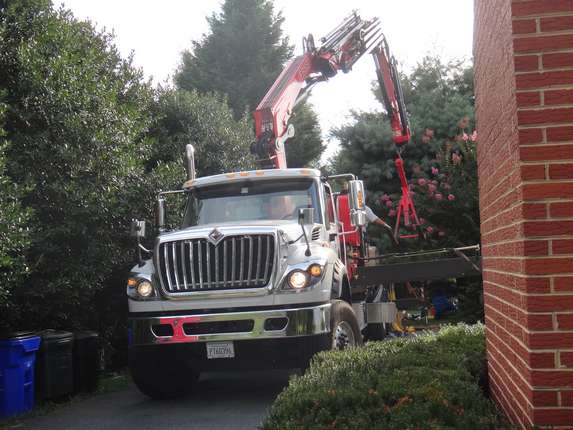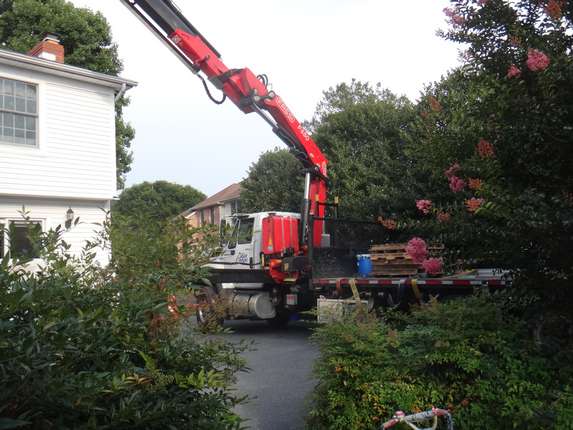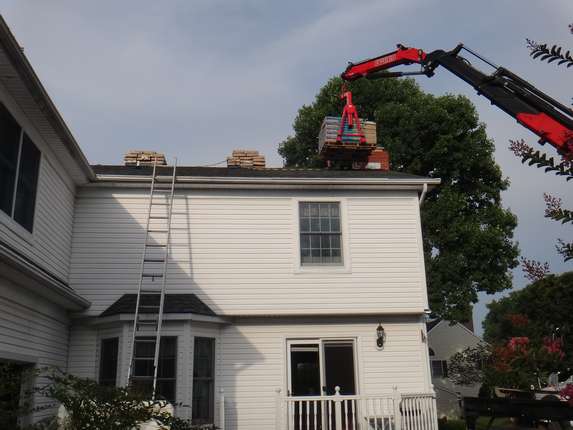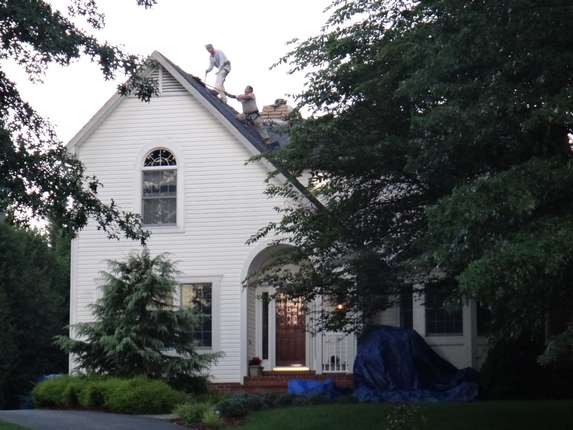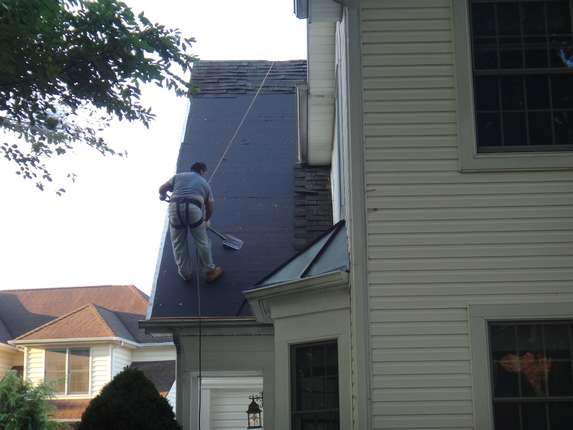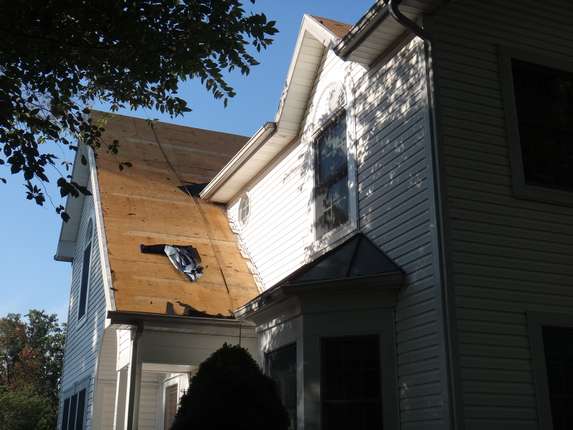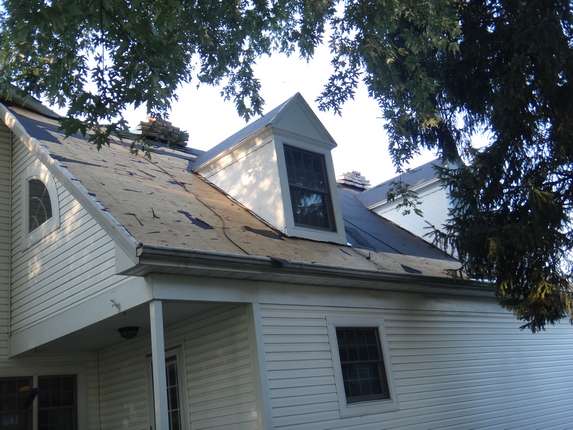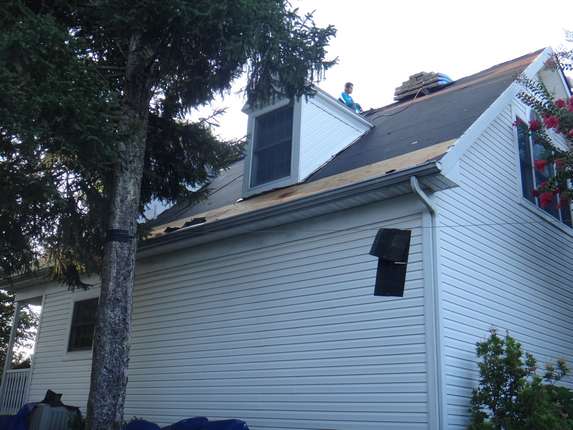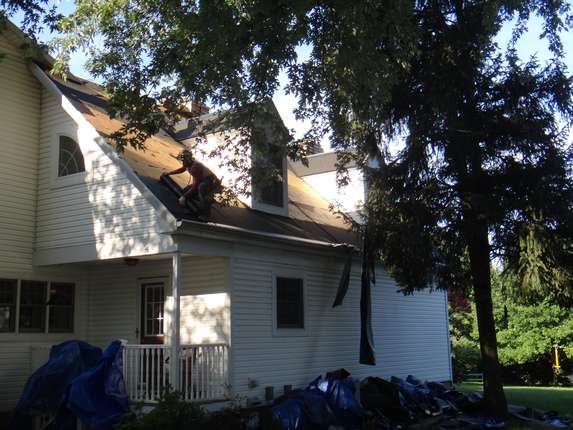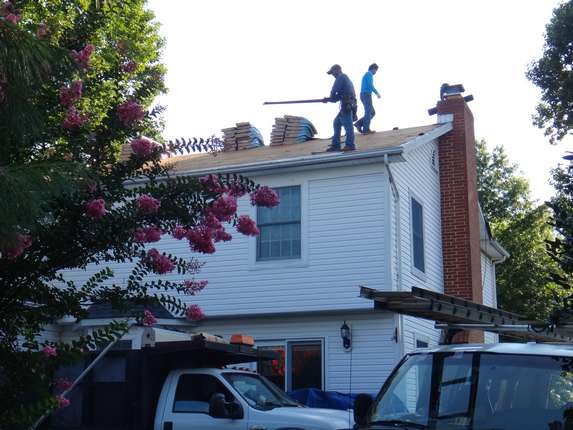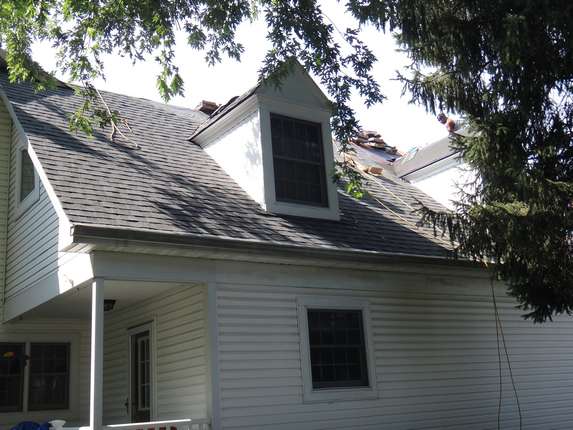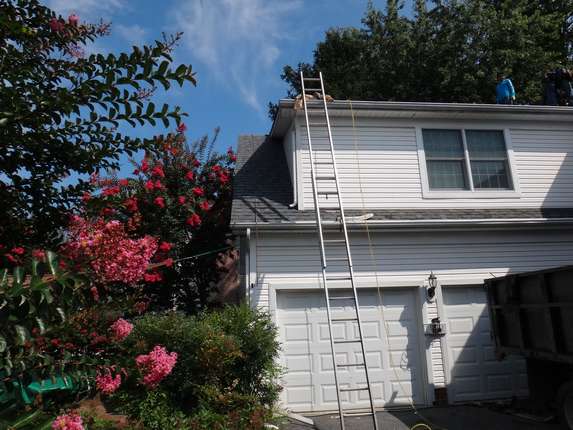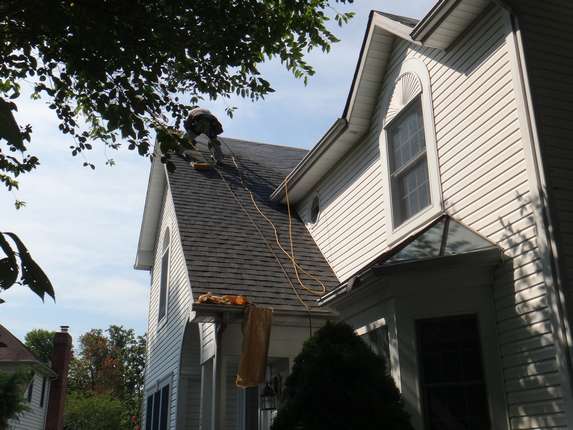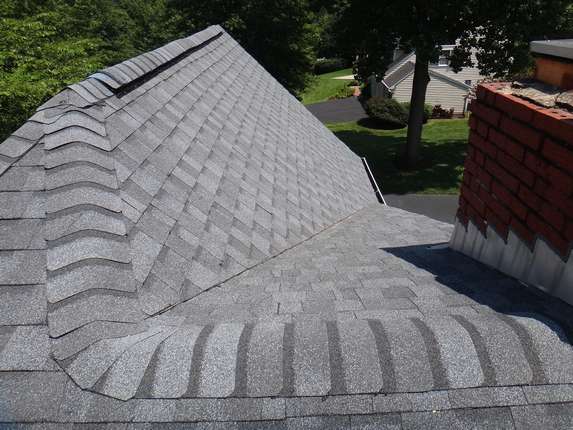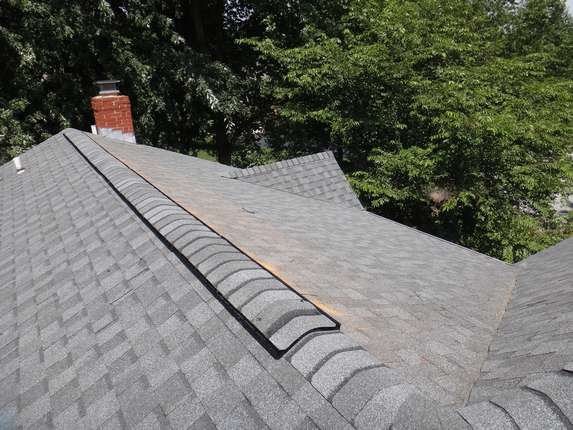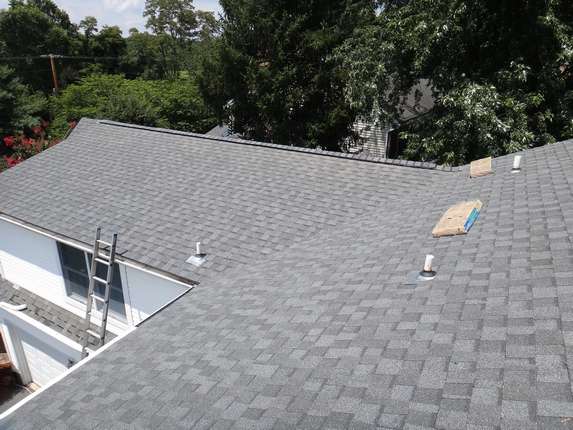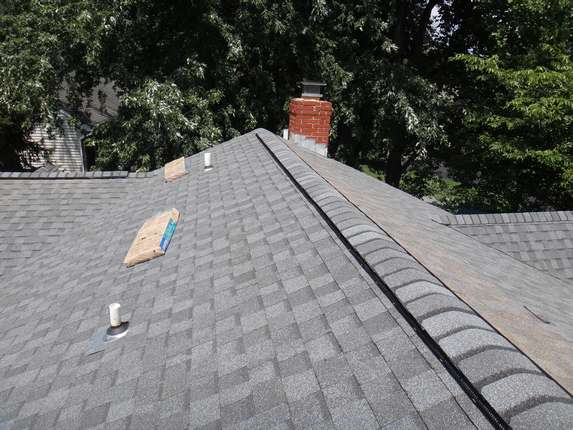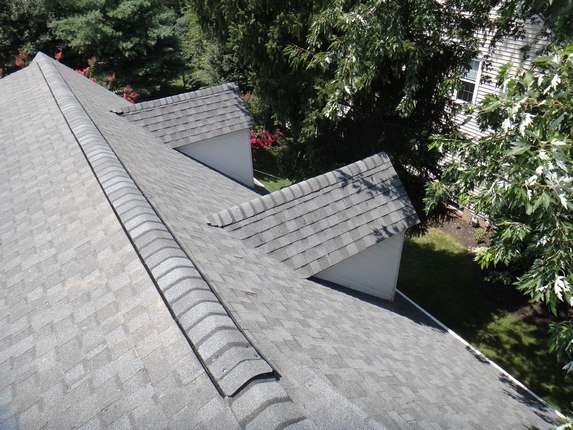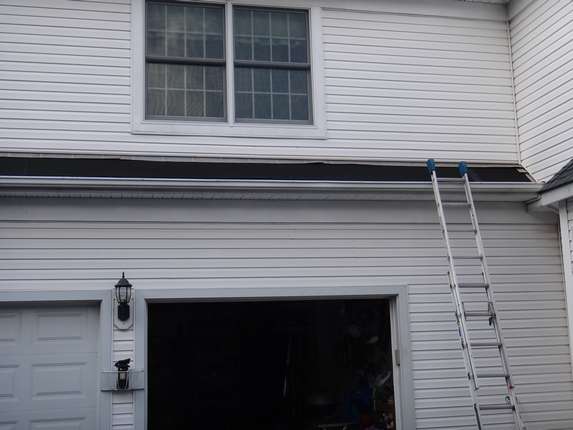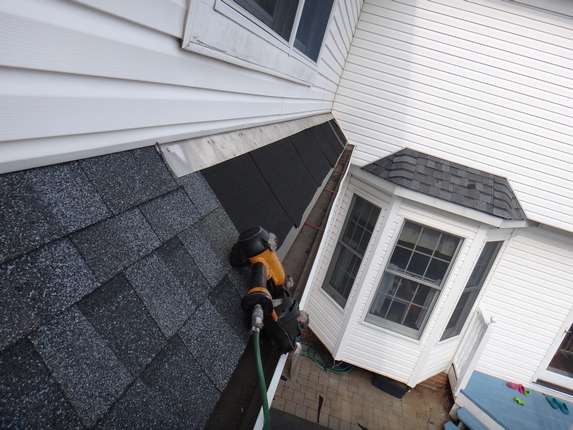 Gutter Guards Etc.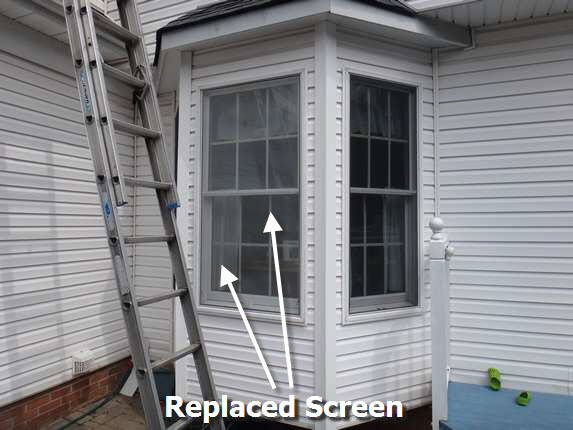 We
replaced this aluminum screen that was damaged by a falling shingle during "tear off" work.

Before we install the new Alcoa Leaf Relief gutter guard system, the gutters must be completely clean and free from debris.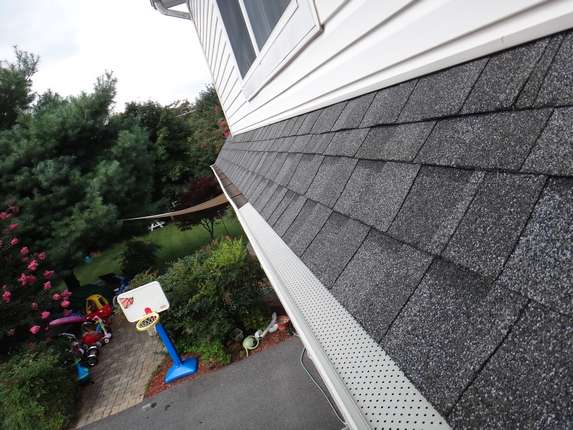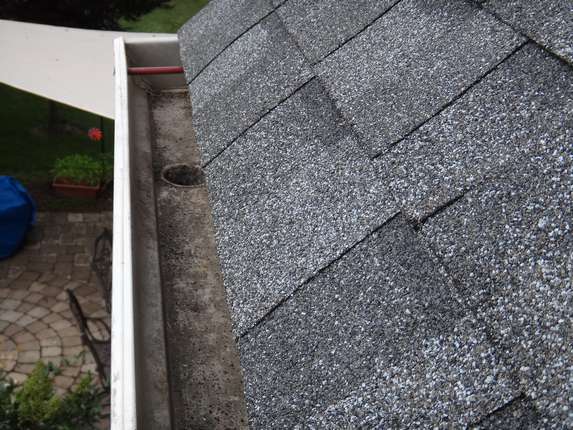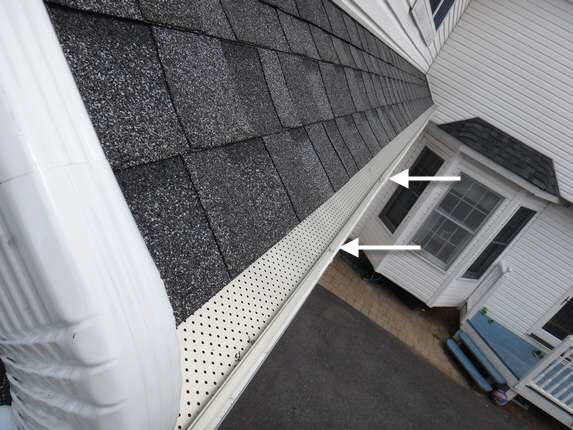 The Leaf Relief is secured to the outer edge of the guttes with hex headed "zip" screws so that sections can be removed later in case they are damaged, or in very rare cases ... need cleaning. Many expensive gutter guards, or "helmets" can not be removed later and are very expensive to service.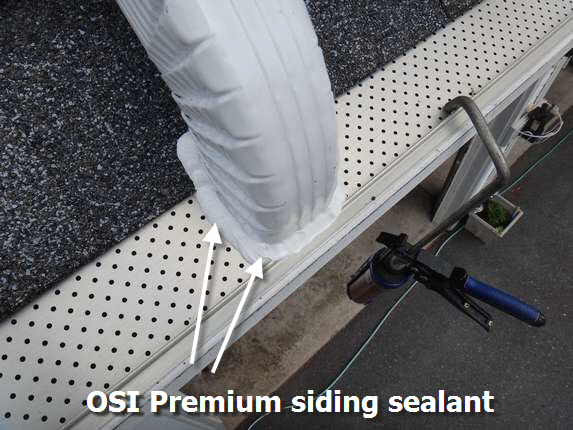 The best way to feed an upper gutter into a lower gutter is with the method you see here.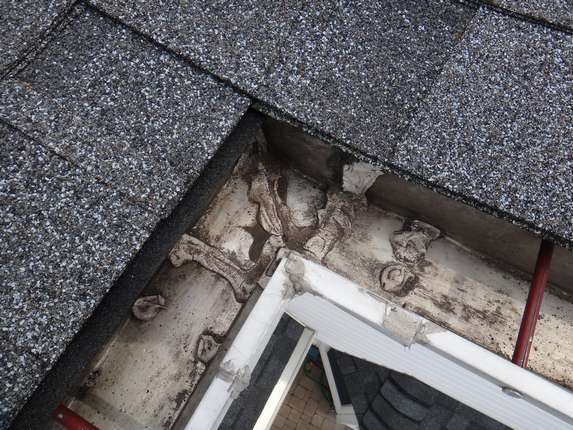 Here's an old gutter miter that's leaking.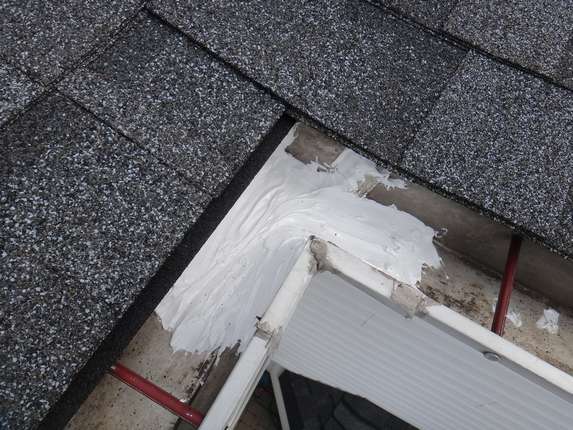 The "fix" is not pretty, but it should work OK.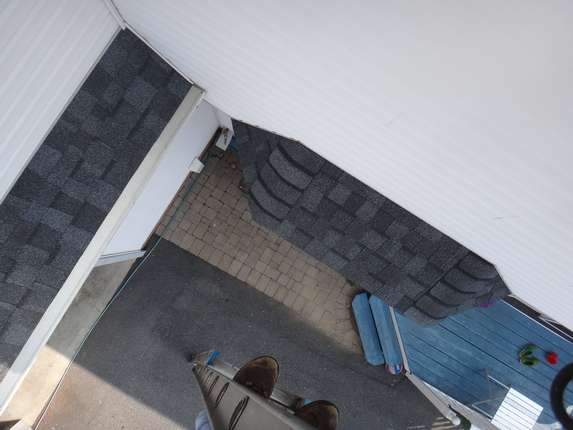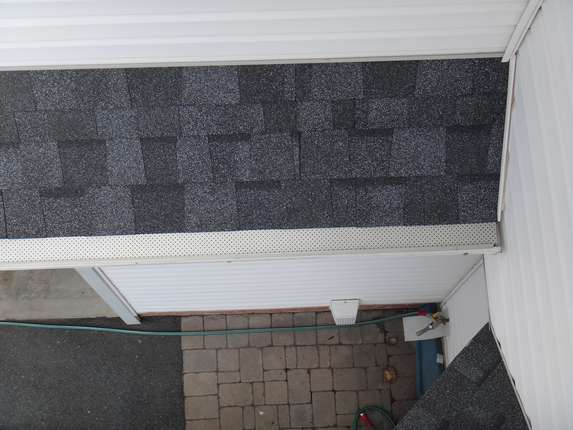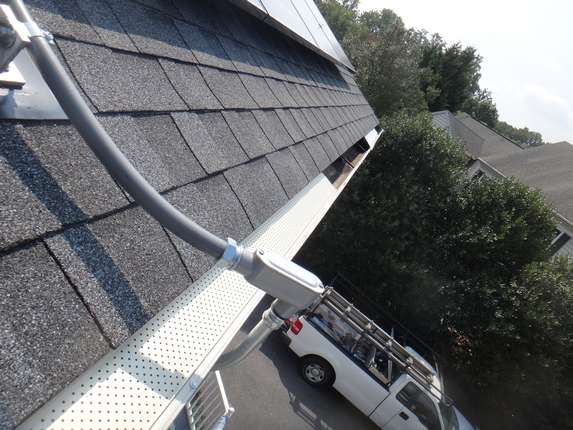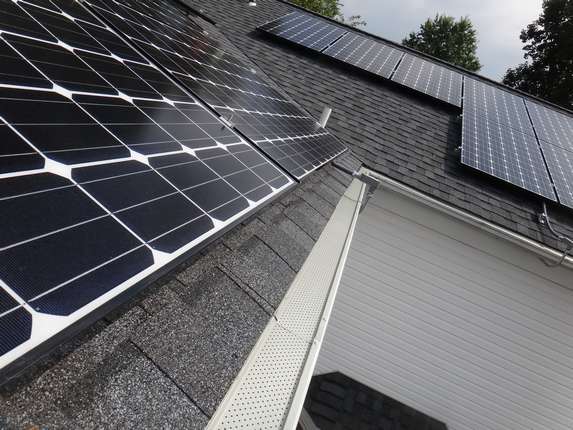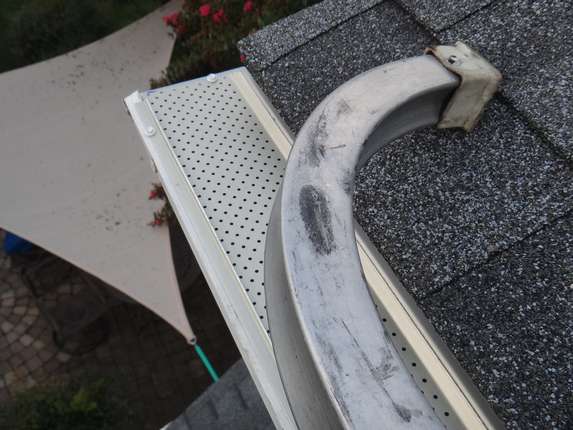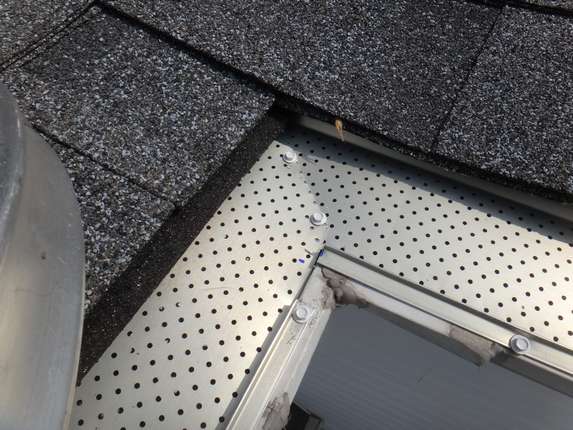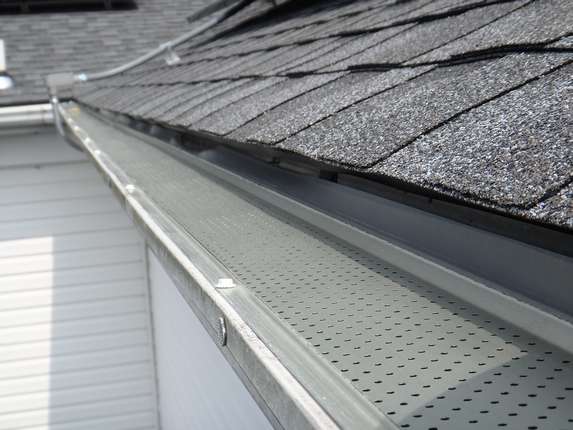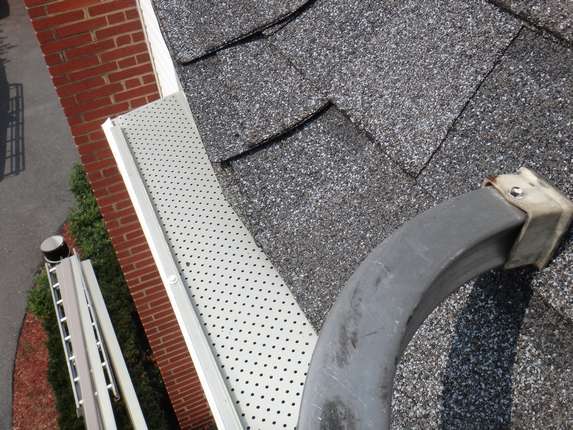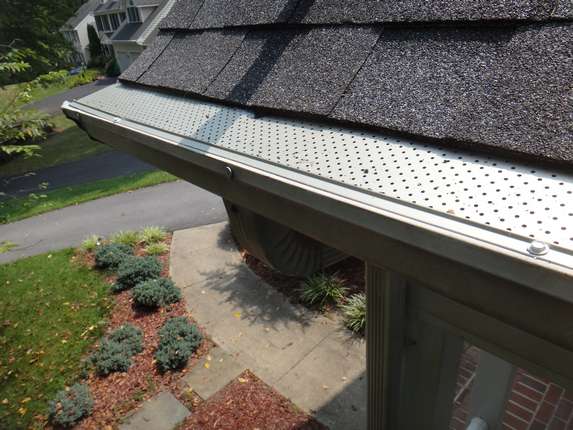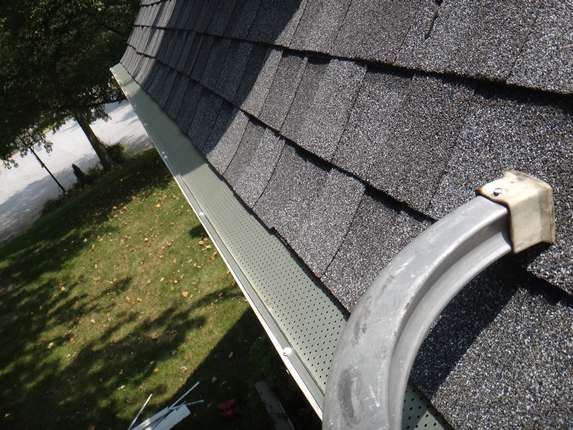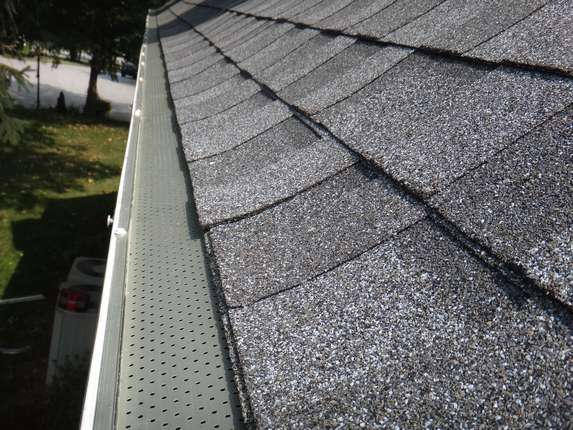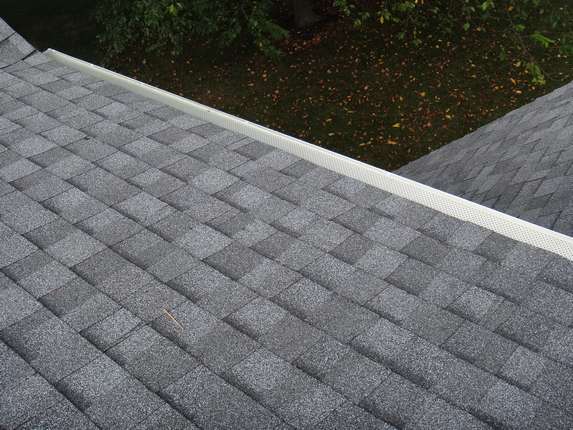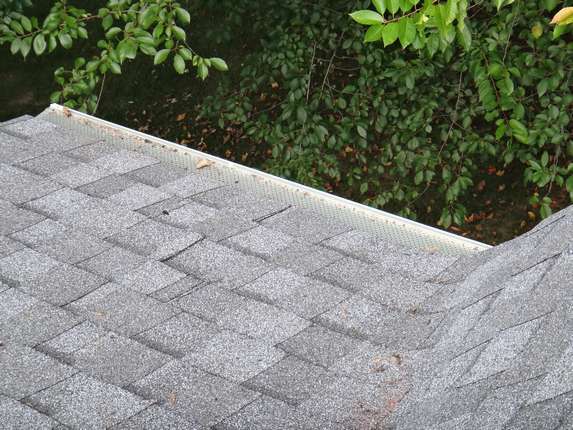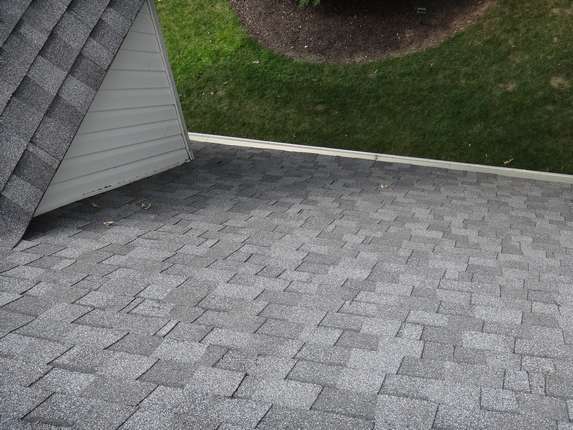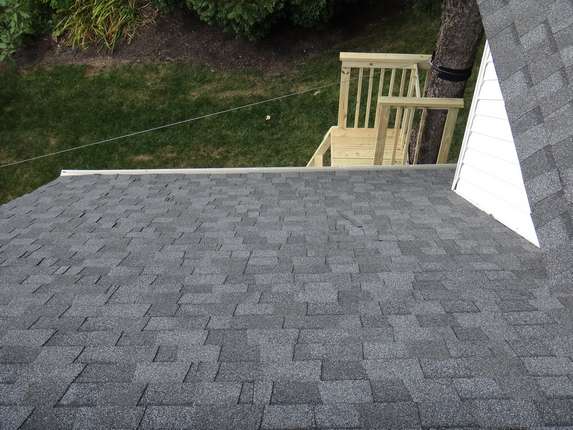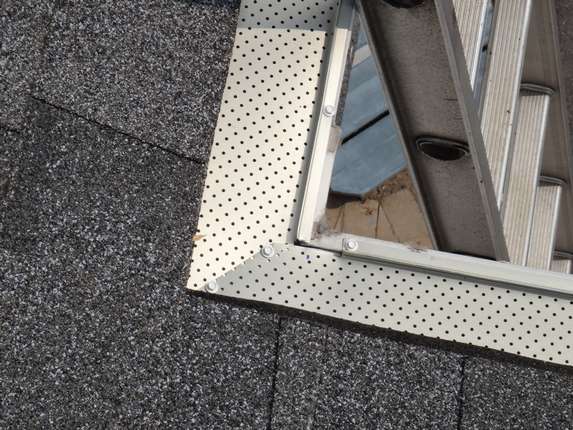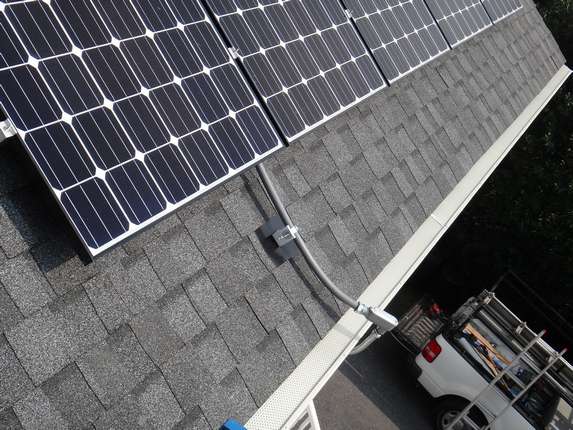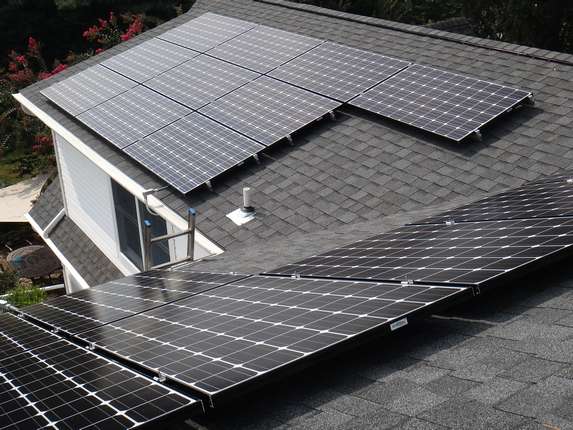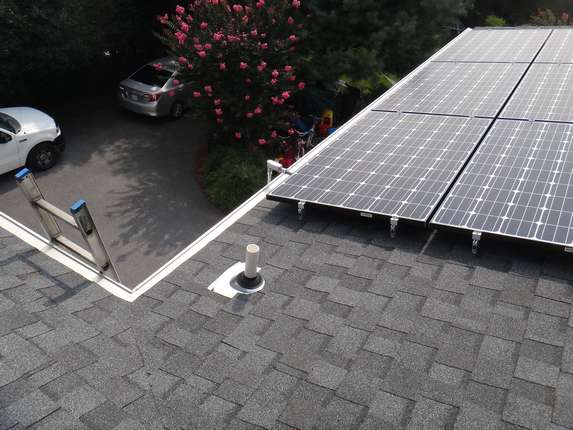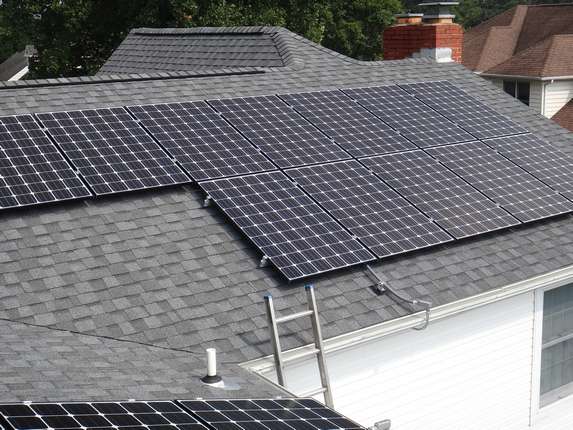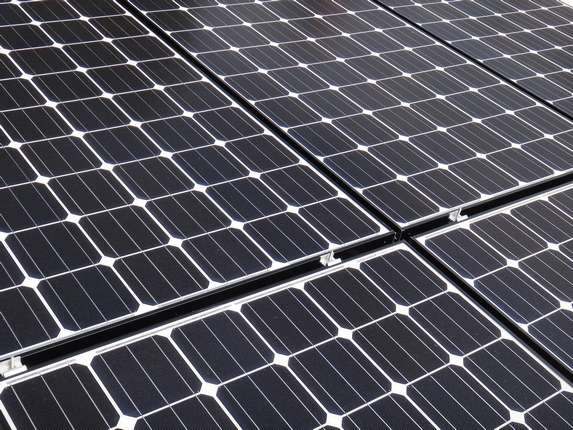 Chimney Flashing and Gutter Diverters: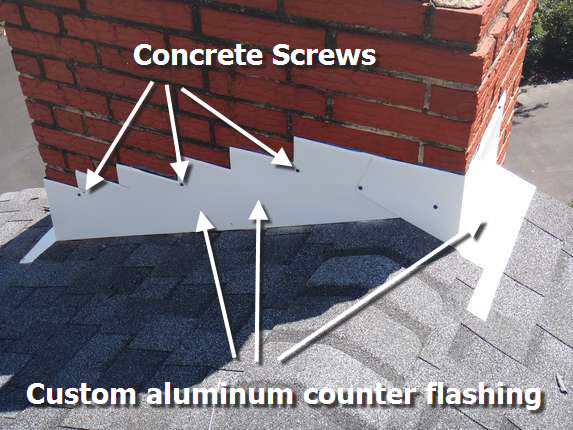 Chimney counter flashing is custom formed from siding grade aluminum coil stock, held in place with 1-1/4" concrete screws.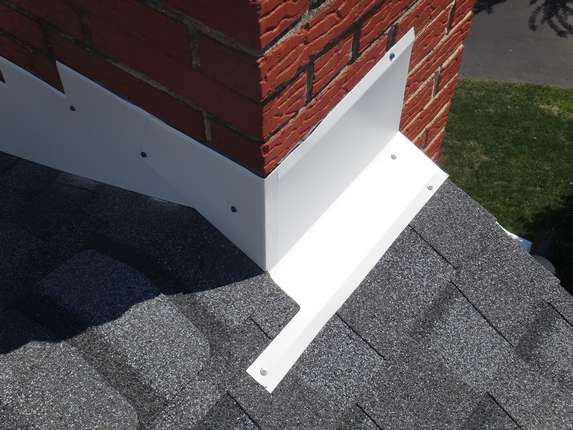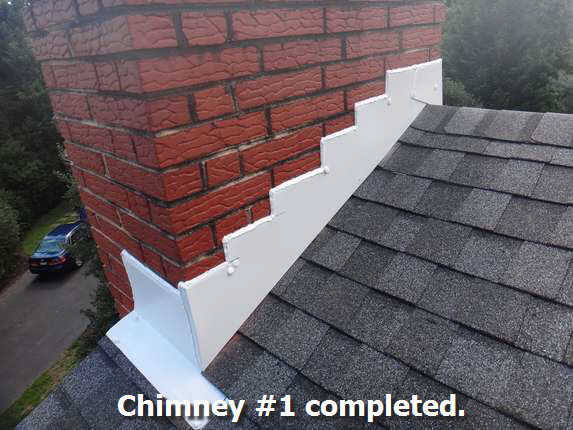 "Lifetime" sealants used: Geocel Tripolymer Sealant or OSI Quad Siding Sealant (depending on the color we're trying to match).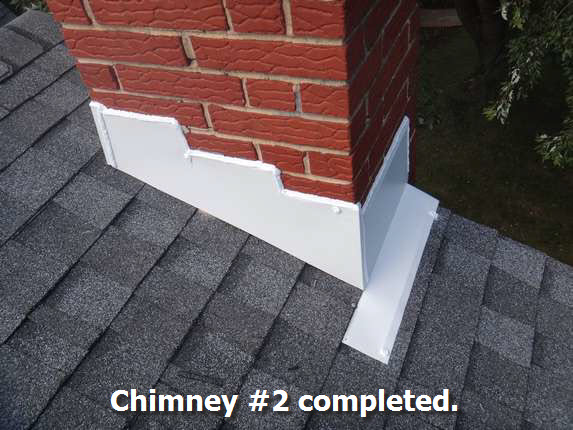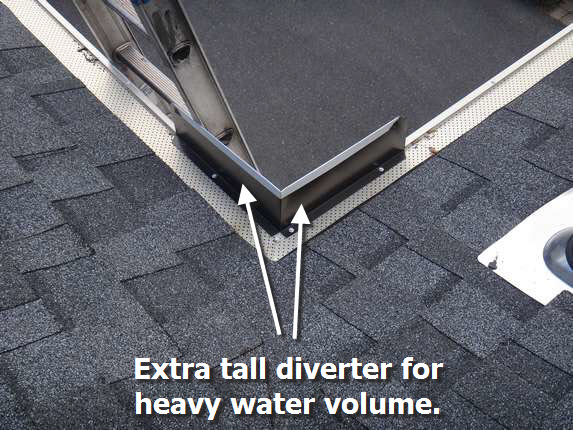 We make our own diverters and splash guards -- mostly because the stock units available at our suppliers have only limited shapes and sizes.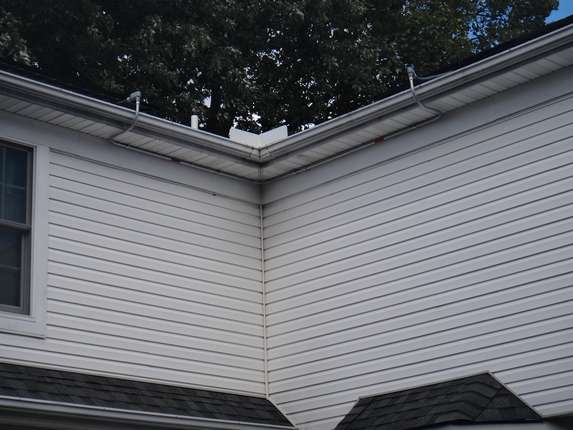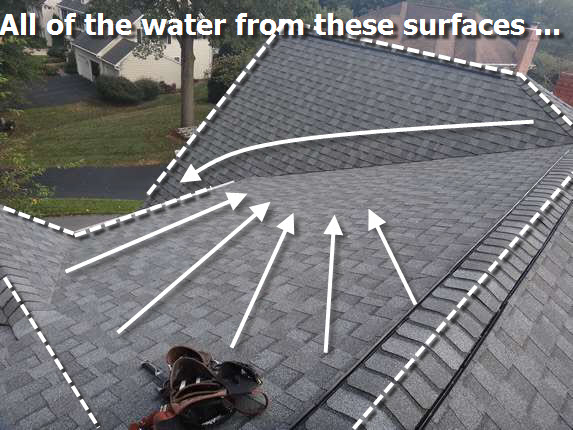 The reason this photo is included is to show the job the designer/architect expected a small 6' x 5" gutter to do ...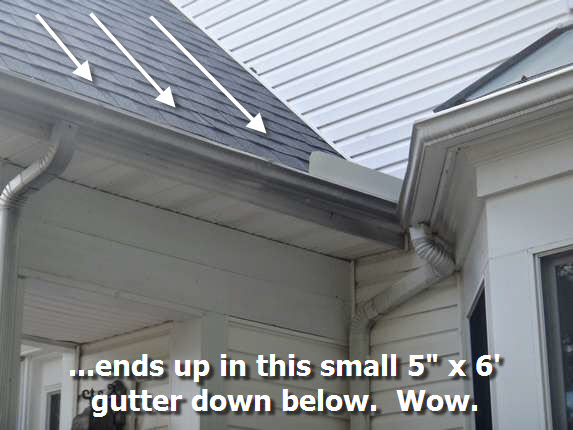 Is it possible that all of that water from above racing down a steep 12/12 pitched roof will end up in that small section of gutter without spilling over? Hmmmmm. I don't think so. Replacing the 5" gutter with a new 6" unit will double the capacity. But would that be enough? Maybe. Upgrading the 2" x 3" downspout to 3" x 4" will help deal with the volume; but even that setup will probably still require a large "splash guard".

Dropping a downspout from the top gutter into the bay window gutter below would help, but that's the front of the house and may not look so great! Functionality vs. aesthetics can be a tough choice when the designer has left you with few options!
...And Finally, Nail Removal: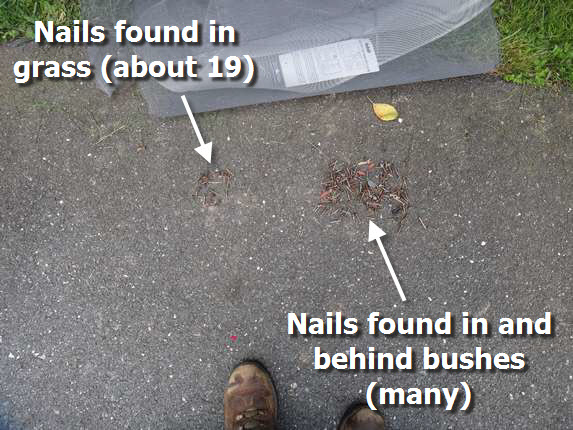 Even though we drag the yard with our fancy "drag magnet", we will never get all of the nails produced during tear off. After about 3 weeks, we'll come back again and drag the yard and bushes. Only 19 nails found in the grass 3 weeks later after thousands of nails removed? Not bad, and this was AFTER dragging the yard several times already.

Although we "tarp" the entire area around the house, some nails get away, especially behind the bushes. We are pretty vigilant about trying to get them all. Some nails will get hung up in the taller bushes and small trees, and fall to the ground later. Just think of all the nails left by other contractors that don't drag the job site with magnets! Wow.