Md Roofing FAQ
Md Roofing Questions We Answer Often . . .


Q: How do I know if I need a new roof?
A: If your roofing is buckled, there are missing shingles, it's leaking, or there are shingle pieces or granules coming out of your downspouts -- you need to have your roof inspected for a replacement. Roofing shingles of "a few years back" don't often last as long as the warranty.
You may just need a roof repair, however. So before you commit to a new roof, contact us to get a roof repair evaluation. Sometimes a repair is all you need. We'll tell you if that's the case, and show you digital pictures to prove it. We specialize in roof repairs too, and will tell you exactly what you need to do -- whatever is in your best interest.
Many roofing companies do not want to do roof repairs and will recommend a roof replacement no matter what! It happens a lot, folks.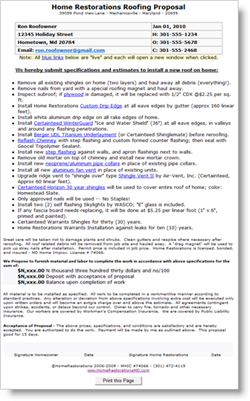 Q: How much does a roof estimate cost?
A: Believe it or not, many Md roofing contractors now charge for estimates. We don't. Our Roofing Estimates are FREE!
Q: Do I need to be home to get an estimate?
A: You do not need to be home for us to perform and inspection and estimate. All we need is your permission to get up on your roof, make the analysis, take some digital pictures, and video.
Q: What's included in a roof estimate?
A: Your roof estimate link will arrive in your email, and when you click on the link you'll get:
Pictures with text showing you what I found
Video
Diagrams
Options that you have
Samples for you to see
References
A detailed written proposal
Pricing with no hidden add-ons
Everything you could want to make an informed decision. And it's totally customized . . . the pictures, video and diagrams are of your roof, not some standardized junk. No standard forms with 'fill in the blanks' and 'check boxes', I promise.
[See a sample roof estimate]
Q: Do you do roof repairs?
A: Yes, we specialize in roof repairs. Most roofing contractors don't want to do repairs. We often repair roofs for entire neighborhoods because people are pleased with our work and our prices are very reasonable.
Q: How do I schedule a roof repair?
A: The fastest way is to fill out our roof repair form. I'll get back to you quickly.
Q: When can you do my repair?
A: Depending on the severity of the weather event that just caused your roof leak, we can usually get by and have a look within a day or two. Here's how our roof repair system works.
Q: How long does it take to replace my roof?
A: Most normal roofs can be replaced in one (1) day. We design the size of our experienced, certified crews to install your roof quickly, so that the job doesn't linger. Unlike others, we can design the schedule around weather events better, and don't interrupt your normal day-to-day routine as much.
Q: When can you install my roof?
A: From the signing of the roof proposal and the picking of roof shingles and color, we can usually start your roof withing two (2) weeks, weather permitting.
Q: Do I need to be home when you install my roof?
A: No, in fact roofing is a noisy operation and many of our customers elect to be away from home. It doesn't matter to us; feel free to do what you wish. I will, of course, be taking before, during, and after roof pictures and video for you to view later -- so that you can see that the work was done correctly, and as expected.
Q: Are there any guarantees?
A: Yes, in addition to the manufacturer's warranty for materials, we offer a ten (10) year "no leak" labor warranty for new roofs, and a two (2) year labor warranty for repairs.
Q: Do you do insurance work?
A: Yes, we do lots of insurance work, and we're very good at negotiating with insurance companies. Most homeowners are not experienced in dealing with insurance adjusters, so we can really be of help! We can help you get the money you deserve.
One of our advantages is the ability to post damage pictures online, where the adjusters can quickly access and print them. By helping them do their job, we're often helping you get a check faster.
Q: Will my homeowners insurance pay for a new roof?
A: If your roof has experienced significant damage, your homeowner's insurance will often pay for a new roof, parts of a roof, or repairs -- minus the deductible, of course. It depends on many factors, including the ability of the contractor to negotiate with the insurance adjuster.
We can handle the negotiations for you and perform the repairs as well.
Q: Should I have my roof inspected every year?
A: If you live in a wooded area, or in an area with lots of wind-blown pollen or dirt, then yes, you should have your roof inspected every year. Otherwise, every two (2) or three (3) years is a good schedule.
Q: My roof is only 14 years old and failing. Why?
A: Your roof could be failing for a number of reasons: poor ventilation, debris from wooded areas, poor maintenance and upkeep, etc. However, it's not unusual for shingles to wear out before their warranty period expires. If you have any questions about the condition of your roof, we'll be happy to take a look . . .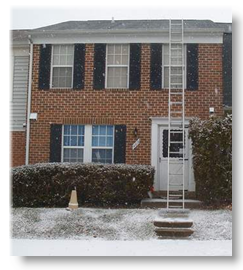 Q: Do you work all year 'round?
A: Yes, of course we do.
Q: Can you install my roof in the winter?
A: Yes, we sure can. If you need a new roof installed in the winter time, we can do it. We train our crews very well in the simple technical adjustments needed for cold weather.
Q: What's the best way to contact you?
A: You can either call us at (443)-837-7400, or email. Contact us for a new roof estimate here.
Contact us for a roof repair here.
Q: Do you accept credit cards?
A: Yes, we do accept credit cards. We use PayPal as our credit/debit card processor, because of their security online. We will email you a credit card link and all you have to do is click. Here's how the system works: Credit/Debit Card Payment
Q: What if my question isn't on this page?
A: Just contact me and ask any question you wish. Even if you're an "out-of-towner" I'll be happy to help you with any advice you need. I've seen a lot of roofing situations in my 32 years in this business! Thanks for stopping by, it's truly appreciated,


Bill Thomas